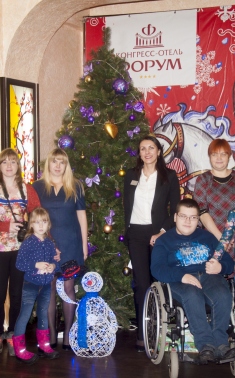 On the 8th of December Congress-hotel "Forum" arranged an event dedicated to a Profession day. Director of the Hotel Panfilova Natalia Aleksandrovna, chief of sales department Chirikhina Natalia Evgenievna and other staff members sincerely welcomed children and their parents. They presented the hotel, explained the work of every department, what kinds of professionals are needed at the hotel and where these professions might be obtained. The children vividly interested in conditions of work, terms of employment, the most of demand vacancies.

Congress-hotel "Forum" created great working conditions. Panflova N.A. confirmed that nothing prevent challenged persons to be employed at the hotel, they just should choose a suitable job, e.g. IT specialists, accountant managers, clerks and so on. The Hotel was opened in 2009 and a great number of celebrities had visited it during since then: Filipp Kirkorov, Valeria, Dima Bilan, top hockey teams, representatives of the major business concerns.

After a tour around the hotel premises the guests were invited to the IL Guisto restaurant where a trivia was held and a huge surprise cake with candles was presented.

At the end of the event the guests expressed gratitude to the welcoming party for the beneficial meeting, overwhelming speech about the hotel professions and wonderful presentation of the hotel business.



21/12