A comfortable Finnish sauna in the Congress-Hotel Forum is a true paradise for those who want to relax their body and mind. We are happy to welcome hotel guests as well as residents of the city.

ONLINE APPLICATION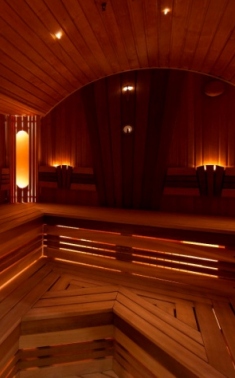 A comfortable sauna at the Congress-hotel Forum is a genuine paradise for those who wish to relax physically and mentally. Dry air of the sauna relaxes tense muscles and reenergizes the whole body. We are glad to welcome both hotel guests and Ryazan citizens.
Finnish sauna
stimulates the cardiovascular system,
improves blood circulation,
cleanses skin,
improves metabolism,
eliminates toxins,
helps to lose weight,
relieves fatigue, relaxes muscles, improves sleep and mood.
Facility details
finnish sauna
a shower room with an ice-water bucket,
a lounge room with an interior garden, mini-bar.
Guests can also order anything from the menu of ILGusto restaurant.
A special offer: GET 11th SAUNA APPOINTMENT FOR FREE!
Minimal time of renting: 2 hours.
Price: from 900 RUB/hour
Companies of more than 5 people should pay 100 RUB/hour for an each extra person.
Features included
cotton sheets;
rubber slippers;
shampoo;
shower gel;
soap;
a tea set.
Available at extra cost
towels;
bathrobes;
single-use slippers.
WORKING HOURS: Daily 24/7
To make an appointment or enquiry call: (4912) 95-30-35
E-mail:
spa@hotel-forum.ru
Reviews
Уважаемая администрация отеля «Форум», я на протяжении 2-х лет пользуюсь услугами СПА-салона. Персонал отзывчивый и внимательный. Сауна – отличная, тренажерный зал на высоком уровне.
Екатерина Устюжанина

12/11
Всем гостям Рязани рекомендуем Спа-салон отеля «Форум». Очень достойный сервис и приятные цены! Так держать! Спасибо.
Постоянные клиенты из Рязани

12/11
Конечно, это рай для души и тела! Сначала мне предложили расслабиться в джакузи и принесли чай с вкусняшками. Это было божественно, я бы балдела там целый день! Но дальше меня ждали еще приятные процедуры в SPA. Конечно, поразил меня вакуумный массаж. Я не ожидала, что это будет так болезненно, но, как известно, красота требует жертв. И я мужественно прошла через это испытание. К тому же после него меня снова ждал релакс. Я посетила солярий. Вышла я оттуда обновленной, помолодевшей, похорошевшей!
Вера Игнатова

01/04
The main reason I write this review is to thank Masha – a wonderful massage specialist. Frankly speaking I was sure that the first procedure would become the last one. But her massage technique changed my decision! Thanks to her I came back from work in a good mood feeling relaxed and not exhausted. My back wasn't sore I was calm and didn't have any trouble with my health during that business trip. I think I should credit her hands for it.
Viktoria Baiburina

12/11
I really want to thank a wonderful person and a real professional - Kirakosyan Olga! Her magical hands relaxed my nerves in an instant! But what really stroke me was a lifting effect of a procedure! Just one procedure! It's a real pleasure to stay at a hotel and to get this kind of service! Thank you and hope to see you again!
M.V. Bolgova

12/11

Send a review