A comfortable Finnish sauna in the Congress-Hotel Forum is a true paradise for those who want to relax their body and mind. We are happy to welcome hotel guests as well as residents of the city.

ONLINE APPLICATION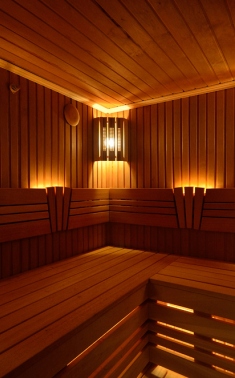 A comfortable sauna at the Congress-hotel Forum is a genuine paradise for those who wish to relax physically and mentally. Dry air of the sauna relaxes tense muscles and reenergizes the whole body. We are glad to welcome both hotel guests and Ryazan citizens.
Finnish sauna
stimulates the cardiovascular system,
improves blood circulation,
cleanses skin,
improves metabolism,
eliminates toxins,
helps to lose weight,
relieves fatigue, relaxes muscles, improves sleep and mood.
Facility details
finnish sauna
a shower room with an ice-water bucket,
a lounge room with an interior garden, mini-bar.
Guests can also order anything from the menu of ILGusto restaurant.
A special offer: GET 11th SAUNA APPOINTMENT FOR FREE!
Minimal time of renting: 2 hours.
Price: from 900 RUB/hour
Companies of more than 5 people should pay 100 RUB/hour for an each extra person.
Features included
cotton sheets;
rubber slippers;
shampoo;
shower gel;
soap;
a tea set.
Available at extra cost
towels;
bathrobes;
single-use slippers.
WORKING HOURS: Daily 24/7
To make an appointment or enquiry call: (4912) 95-30-35
E-mail:
spa@hotel-forum.ru
Reviews
Спасибо большое девочкам Спа-салона!!!! Порекомендовали сделать Обертывание в Спа-капсуле, это что-то!!! Кожа после процедуры стала нежная, гладкая, подтянулась и еще я получила невероятное расслабление!!!! Как будто сбросила лет 10!!!! Цена тоже приятно удивила, всем рекомендую.
Любовь

10/07
Не могу не поделиться впечатлениями! Были в обновленном Хаммаме, в восторге от Джакузи с подсветкой. Супер гидромассаж!!! Джакузи в отдельной комнате, интерьер очень приятный, уютное местечко). А в хаммаме, как всегда, пар на все 100!
Постоянные клиенты Спа-салона

12/11
Thank you for the gym! All the comfortable conditions are created here! Special thanks to a receptionist who was always ready to help with fitness equipment!
Alexander

12/11
Everything was great. We are happy! The sauna is a real catch! Keep up the good work!
Michael

12/11
Уважаемая администрация отеля «Форум», я на протяжении 2-х лет пользуюсь услугами СПА-салона. Персонал отзывчивый и внимательный. Сауна – отличная, тренажерный зал на высоком уровне.
Екатерина Устюжанина

12/11

Send a review