In a Turkish hammam you can relax after business meetings, celebrate a birthday or any other event, or just have fun with your friends.

ONLINE APPLICATION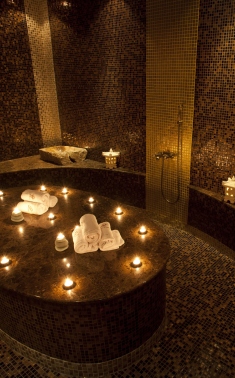 Temperature at a traditional Turkish hamam remains constant at 35-55 °C, but humidity can reach up to 100 %! The humid air relaxes muscles, provides moisturizing and deep cleaning effect.
Our hamam is equipped with a SPA pool which combines all the best features of a regular pool and a hot tub. The SPA pool has a favorable effect on a human body, exercises healthcare and anti-aging effects, helps to relax tense muscles, improves your concentration and sleep, reduces stress.
Turkish hamam
stabilizes respiratory system,
improves digestion,
eliminates toxins,
cleanses skin,
helps to fight fatigue and insomnia,
reduces extra weight.
Facility details
Hamam;
a shower room;
a lounge room with an interior garden;
a Spa-pool;
a mini-bar;
Guests can also order anything from the menu of ILGusto restaurant.
A special offer: GET 11th SAUNA APPOINTMENT FOR FREE!
Minimal time of renting: 2 hours.
Price: from 1200 RUB/hour
Companies of more than 5 people should pay 100 RUB/hour for each extra person.
Features included
cotton sheets;
rubber slippers;
shampoo;
shower gel;
soap;
tea set.
Available at extra cost
towels;
bathrobes;
single-use slippers.
WORKING HOURS: 24/7
To make an appointment or enquiry call:: (4912) 95-30-35
E-mail:
spa@hotel-forum.ru
Reviews
Конечно, это рай для души и тела! Сначала мне предложили расслабиться в джакузи и принесли чай с вкусняшками. Это было божественно, я бы балдела там целый день! Но дальше меня ждали еще приятные процедуры в SPA. Конечно, поразил меня вакуумный массаж. Я не ожидала, что это будет так болезненно, но, как известно, красота требует жертв. И я мужественно прошла через это испытание. К тому же после него меня снова ждал релакс. Я посетила солярий. Вышла я оттуда обновленной, помолодевшей, похорошевшей!
Вера Игнатова

01/04
I really want to thank a wonderful person and a real professional - Kirakosyan Olga! Her magical hands relaxed my nerves in an instant! But what really stroke me was a lifting effect of a procedure! Just one procedure! It's a real pleasure to stay at a hotel and to get this kind of service! Thank you and hope to see you again!
M.V. Bolgova

12/11
Thank you very much for the leisure time arrangement! Hammam is really great! Svetlana, thank you very much!
Maria

18/07
Everything was great. We are happy! The sauna is a real catch! Keep up the good work!
Michael

12/11
Не могу не поделиться впечатлениями! Были в обновленном Хаммаме, в восторге от Джакузи с подсветкой. Супер гидромассаж!!! Джакузи в отдельной комнате, интерьер очень приятный, уютное местечко). А в хаммаме, как всегда, пар на все 100!
Постоянные клиенты Спа-салона

12/11

Send a review