In the pastry shop of the Congress-Hotel Forum you can appreciate the work of masters of the art of cookery who can fulfill the most exquisite dreams of any gourmet or sweet tooth.

ONLINE APPLICATION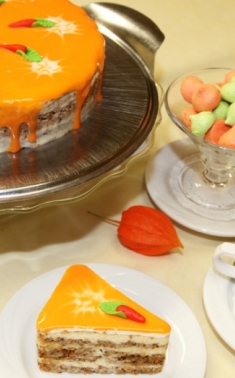 All the cakes and desserts are cooked by our pastry makers and consist only of the finest ingredients. We offer a great variety of festive cakes, which are tailored to your wishes and shapes by our confectionery masters.
The cake ordered at the pastry shop of the Congress Hotel Forum is an embodiment of your personality because it is prepared according to your preferences especially for your celebration.
You can order any of our desserts via phone +7 (4912) 95-02-08 or directly at the pastry shop from 9 am till 6 pm.
Reviews
A great hotel! Our wedding was magical! Thank you for the gift, the room was wonderful!
Olga and Andrey

06/09
Все как всегда оперативно и без нареканий. Претензий – 0. Особое спасибо за работу Екатерине Нистратовой и банкетной службе.
Танасова Дарья, ООО «Фармклуб»

24/05
Праздновали у вас свадьбу 28.07.2018 и хотели бы вам сказать огромное спасибо!
Все гости, мы, родители рады, что выбрали именно ваше ресторан. Еда, обслуживание... все было на высшем уровне. Особенно хотелось бы отметить еду (за что спасибо повару) и торт от кондитера Елены! У нас нет слов, одни эмоции. Спасибо вам, вашим сотрудникам и администрации ресторан за то, что вы есть... такая сильная и слаженная команда. Только недавно нам отдали фотографии, решили поделиться с вами.
СПАСИБО ЕЩЁ РАЗ ВАМ БОЛЬШОЕ!
Молодожены

31/08
We are very grateful for the personnel of "Forum" hotel for the perfect arrangement of our company's event on October, 15, 2015. A high level of service, delicious meal, welcoming staff, comfortable rooms impressed us and created only pleasant memories about the hotel and the city.
Sergey

09/10

Send a review