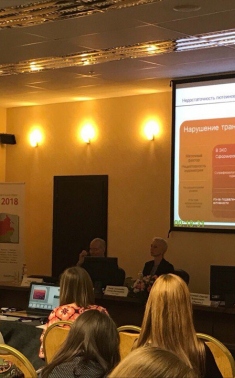 Ryazan, January, 20, 2018
Congress-hotel "Forum"
"Innovations in Obstetrics and Gynecology from the perspective of evidence-based medicine" was the subject of an educational seminar.

Under the egis:
• National priority project «Education», innovational educational program PFUR
• Ministry of Healthcare of Ryazan region
• Peoples' Friendship University of Russia, Medical Institute, department of Obstetrics and Gynecology with perinatalogy course; department of Obstetrics and Gynecology and reproductive medicine of Advanced Training Faculty for medical staff
• Ryazan State Medical University named after academician I.P. Pavlov
• Russian association of obstetrician-gynecologists, quality of medical care committee
• Cross-disciplinary association of specialists in reproductive medicine
• Magazine "StatusPraesens. Gynecology, Obstetrics, infertile marriage"

Scientific and technical sponsor: Mediabureau StatusPraesens
Chairmen and spokesmen at the seminar are the key figures in medical education and public health service of Russia.




22/01