Choosing our restaurant for a wedding celebration we can guarantee you that our organization of your wedding will exceed all of your expectations.

ONLINE APPLICATION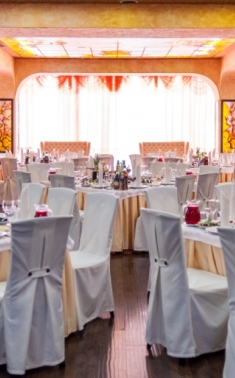 The wedding is the most exciting and unforgettable day in a life of every person. Choosing our restaurant for carrying out a wedding banquet, we guarantee that the level of the organization of a wedding celebration will exceed all your expectations as we especially single out weddings from a number of all festive events held at our restaurant. Especially for our guests we have developed a ready-made version of the menu starting from 1750 rubles per person.
For the newlyweds
2 banquet rooms for 250 and 80 persons;
elegant decoration of the hall by stylists and refined wedding floristic from professional flower designers;
on-site registration of wedding in a banquet room or on the hotel territory at the fountain
music during the whole celebration;
services of a host and a customized program;
photo and video filming;
themed Candy Bar - a stylishly decorated buffet table with all sorts of sweets.
A PLEASANT SUPPLEMENT FOR YOUR CELEBRATION CAN BE
15% discount for accommodation for guests of newlyweds
a transfer for your guests
an exclusive wedding cake of any design and size from the chief-confectioner of the IL Gusto restaurant at a 15% discount
a round loaf as a gift
Additionally, a gift certificate for accommodation in one of the rooms from "The wedding Night" package will be a wonderful surprise for the newlyweds. Certificates can be purchased at the reception. IF A TOTAL COST OF A WEDDING BANQUET IS:
Over 100 000 rub – newlyweds get Junior Suite Comfort room and "The Wedding Night" package as a gift.
Over 150 000 rub – newlyweds get Juniour Suite Business room and the "The Wedding Night" package as a gift.
Over 200 000 rub - newlyweds get Luxe and "The Wedding Night" package as a gift.
Over 250 000 rub - newlyweds get Luxe and "The Wedding Night" package as a gift. Besides we present you with a wedding cake and a decorated arch, onetime 20% discount for any service of the hotel, anniversary celebration certificates and a transfer.
Reviews
We are very grateful for the personnel of "Forum" hotel for the perfect arrangement of our company's event on October, 15, 2015. A high level of service, delicious meal, welcoming staff, comfortable rooms impressed us and created only pleasant memories about the hotel and the city.
Sergey

09/10
Все как всегда оперативно и без нареканий. Претензий – 0. Особое спасибо за работу Екатерине Нистратовой и банкетной службе.
Танасова Дарья, ООО «Фармклуб»

24/05
A great hotel! Our wedding was magical! Thank you for the gift, the room was wonderful!
Olga and Andrey

06/09
Праздновали у вас свадьбу 28.07.2018 и хотели бы вам сказать огромное спасибо!
Все гости, мы, родители рады, что выбрали именно ваше ресторан. Еда, обслуживание... все было на высшем уровне. Особенно хотелось бы отметить еду (за что спасибо повару) и торт от кондитера Елены! У нас нет слов, одни эмоции. Спасибо вам, вашим сотрудникам и администрации ресторан за то, что вы есть... такая сильная и слаженная команда. Только недавно нам отдали фотографии, решили поделиться с вами.
СПАСИБО ЕЩЁ РАЗ ВАМ БОЛЬШОЕ!
Молодожены

31/08

Send a review