The secret of your beauty and health is in hands of our masters who work miracles using special massage techniques! Guests of the hotel and residents of the city can give themselves a pleasure of a relaxing massage.

ONLINE APPLICATION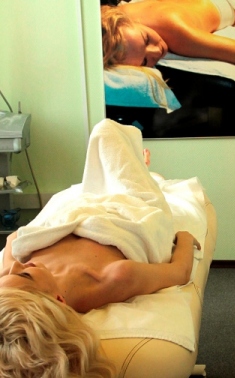 The secret of your beauty and wellness is in the hands of our specialists, who work wonders using special massage techniques! Our guests and regular customers are welcome to treat themselves with toning or relaxing hand massage or enjoy a stone therapy procedure which gives a sense of balance and inner peace.
Types of massage
stone therapy – 2300 RUB,
complex preventive massage – 1300 RUB,
back massage – 700 RUB,
neck and face massage – 600 RUB,
relaxing massage – 1200 RUB,
head massage – 600 RUB,
anti-cellulite massage – 1400 RUB,
lymphatic drainage massage – 1200 RUB.
Starvac
Take a chance and try a unique procedure – body shape improvement with the Starvac vacuum-roller massage system. An amazing effect of Starvac massage will be evident just in several procedures! Starvac vacuum-roller system is based on the principles of lymphodrainage and vacuum therapy. As a result:
refreshed and beautiful skin, improved its elasticity and structure,;
stimulated blood circulation which leads to tissue detoxification and the whole body purification; reduced body fat.
Price — from 700 RUB
To make an appointment or enquiry call: (4912) 95-30-35
E-mail:
spa@hotel-forum.ru
Reviews
Thank you very much for the leisure time arrangement! Hammam is really great! Svetlana, thank you very much!
Maria

18/07
Не могу не поделиться впечатлениями! Были в обновленном Хаммаме, в восторге от Джакузи с подсветкой. Супер гидромассаж!!! Джакузи в отдельной комнате, интерьер очень приятный, уютное местечко). А в хаммаме, как всегда, пар на все 100!
Постоянные клиенты Спа-салона

12/11
The main reason I write this review is to thank Masha – a wonderful massage specialist. Frankly speaking I was sure that the first procedure would become the last one. But her massage technique changed my decision! Thanks to her I came back from work in a good mood feeling relaxed and not exhausted. My back wasn't sore I was calm and didn't have any trouble with my health during that business trip. I think I should credit her hands for it.
Viktoria Baiburina

12/11
Конечно, это рай для души и тела! Сначала мне предложили расслабиться в джакузи и принесли чай с вкусняшками. Это было божественно, я бы балдела там целый день! Но дальше меня ждали еще приятные процедуры в SPA. Конечно, поразил меня вакуумный массаж. Я не ожидала, что это будет так болезненно, но, как известно, красота требует жертв. И я мужественно прошла через это испытание. К тому же после него меня снова ждал релакс. Я посетила солярий. Вышла я оттуда обновленной, помолодевшей, похорошевшей!
Вера Игнатова

01/04
Уважаемая администрация отеля «Форум», я на протяжении 2-х лет пользуюсь услугами СПА-салона. Персонал отзывчивый и внимательный. Сауна – отличная, тренажерный зал на высоком уровне.
Екатерина Устюжанина

12/11

Send a review